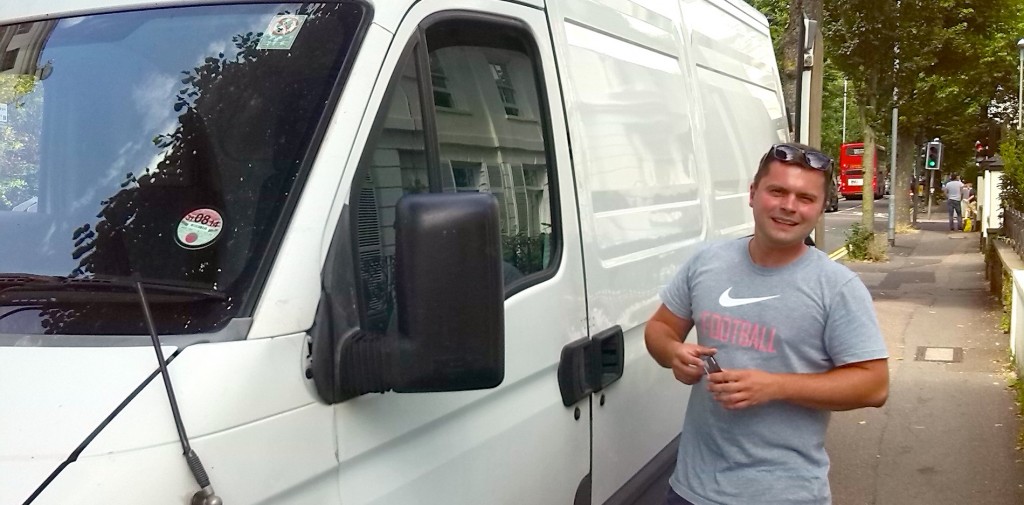 And I mean that literally. He picks up the boxes of my possessions and transports them to my next destination.
Just before I left Brighton, during another move, I realised this man Bart, is privy to some of my most significant moments in recent years.
In fact, I remember all my men-with-vens.

Maybe a move is always meaningful, a signifier of a happening in the life. A statement is being made. A path has been chosen.
No-one really wants the hassle of moving unless they are either actively seeking, or wanting to avoid something. A move therefore is likely a defining moment in that individuals story.
In Brighton alone I've lived in seven homes, again confirming my lifetime average of one house per year.
On arrival in Brighton I took a cheap room in a shoddy, shared house. I lived with four random people, a reclusive, overqualified, ex-academic now council worker, a poetry lecturer who refused to ever wear denim jeans, and a would-be-writer with chronic fatigue who was rarely seen without her dressing gown. It was fine for a short while, but I fancied myself as upwardly mobile.

After a cheap and merry summer spent mainly at the beach lounging on an inflatable lilo, I took a part-time job and opted to upgrade. I found a swanky flat with a cool new friend, who DJ'd and had founded his own digital media company. That, I was sure, was more my style.


In the flat I had the largest bedroom. It overlooked the park from three large, curved windows, and boasted its own bathroom with shiny blue tiles and a power shower.
Mover #1 was an ex-London wide boy and sometime DJ. His ringtone was a screeching, dirty techno tune. During the entire move with him, from door to door he talked continuously on his mobile phone, having an animated conversation ("He said whaaat? He's a facking waaanker") seemingly entirely unaffected by my presence. I was quietly impressed with his absence of shame or awkwardness. Toward the end of the trip I'd relaxed into his conversation, smiling occasionally and giving him a nod of approval at a particularly creative slight.
The luxury flat didn't last long. After an extended trip to Australia, my cool flat mate had in my absence, got married and moved to Berlin. This left me with a brand new unknown flatmate, a slightly scary powerful woman, who'd enjoyed the two-bed place solo, courtesy of my payments in absentia. To add to the awkwardness, I had temporarily brought an ill-matched Aussie surfer home. The combination was a poor one, she wasn't keen on her home being suddenly occupied by two messy unemployed travellers, and within weeks I opted for a quick exit.
Downwardly mobile again, the next house I found in was a tiny terrace, with a sublet micro-room in the basement. Three lively male students, and an attractive cat called Tommy lived there.

A friend recommended her mover of choice, Mover #2 and his name escapes me but I've often referred to him as "Flat cap and whippet man" and if you'd met him, that would more than do to aid recollection.
He traveled in a large transit van with with several dogs (whippets or partial whippets) and I believe, when not occasionally using the van for extra income, lived in the woods as some kind of forester. His dogs would sit patiently with their heads hanging out of the van's open windows. He sported genuinely well worn "outdoor" clothes, that may have been waxed or perhaps just had ended up looking that way. He smelled earthy with bonus woodsmoke. It was almost impossible to meet this man and not afterward describe him as "salt of the earth".
Slow and steady, his leisurely and evenly paced way of speaking and moving was exactly what I needed when my ex housemate disliked me, my Aussie shag had gone back home, and I felt ragged and unsettled.
Overall the strange and undersized little house worked out reasonably well. The basement I shared with a jolly, red bearded Scottish man whose bed was separated from my tiny room by a thin curtain. We became rapidly familiar in ways I couldn't have predicted.
And so about six months later, after a whirlwind romance had inspired a hurried "Let's live together!" endeavour, Flat cap and whippet man was called upon again. Myself and my new beau picked an apartment in the very center of town, large, open plan and overlooking the pedestrianised streets opposite the pretty Pavilion gardens. A proper place to live out our new shiny relationship.

Romance ensued and it was two years before I needed Flat cap and whippet man again. The city center flat had eventually proved a little too exciting for my maturing taste. After another sleepless night genuinely wondering if the students upstairs had constructed a skate ramp, we decided we wanted a flat with a garden, somewhere quiet, somewhere more… Radio 4.

However, this time the prospect of moving for cheap had not appealed. Myself and the boyfriend had acquired additional possessions, as you do when you shack up together, and we were taking these prizes of partnership with us. We decided to splash out on a "two man team" hence Mover #3. Additionally, to avoid moving stress we'd bought tickets to the cinema, to be entirely absent and carefree during the transition.
On arrival at the new garden flat, following the two man team's efforts we discovered all of our belongings heaped up high in one room, in an unlikely pile shaped like a pyramid. It resembled the pivotal scene from a movie where the new occupants realise maybe there really is a poltergeist resident in their dream home.
Since that moving experience had not satisfied our lofty ambitions, six months later (after our romantic dreams had run somewhat aground) I was tipped off about Bart, my Mover #4.
Separating with my beloved for some "time out" and being the first past the post in the re-homing race, Bart ferried me, my stuff and some of my boyfriend's stuff away from the mostly-failed-love-nest, to yet another slightly grubby, yet large and impressive shared house.


Weeks later Bart was again put to use when the fragile bonds of the relationship bust further apart and in a fit of fury I insisted the boyfriend should bloody well take his stuff out of my house and store it somewhere else as I wasn't bloody well going to look after it.
And Bart came… and ferried the boyfriend's boxes away to a temporary self-storage unit.
A short time later, having enjoyed Bart's emergency relocation services, the boyfriend secured him to move his scattered goods into a one bedroom flat of his own.

Some more peaceful months passed and Bart came again to my door, to move a king size bed purchased from gumtree into my shared house. This too was a key moment for me as I'd never owned a really decent bed before. On the journey home we shared in the pleasure of the purchase of my huge new bed, UK assembled with fine black wood and the largest, most indulgent sized mattress possible.
About a year later I again called Bart when I had plans to travel, and since I was vacating my place had decided to donate the mighty king Size to a heavily pregnant friend. He also brought the more modest double bed from her flat back to mine to replace it.
Before my eventual exit from the town I'd called home, I moved temporarily into the flat of the long suffering boyfriend, in a last ditch maybe-we'll-live-together-again-one-day attempt. Bart seemed pleased, now knowing intimately the locations of our residences, and where was good to park.
He asked about my pet rabbit.
I asked about his kids.
Not four weeks later, after a closing round of relationship drama it was Bart I called to move my (rapidly diminishing) possessions back to the previous shared house.
I heard the doorbell ring. At the door he smiled and said "That was quick".
So this one's for you Bart. Thanks for enabling many of my adventures in Brighton and being a bastion of continuity in an otherwise wildly shifting landscape.
And.. if anyone needs a friendly, endlessly patient mover with a giant van, give Bart a call, and tell him Lucy with the rabbit sent you.