It's time for a TV round up again. The snow is probably falling, it's dark by 4pm so there is little better to do than get into a series or two, and pull up the duvet. It's ok 'though, as we're halfway out of the dark.
Spartacus: Blood and Sand (Season 1)
Format: 13 episodes of 50 minutes.



Created by a Buffy writer, Steven S. DeKnight and exec-produced by pop culture hero Sam Raimi, Spartacus takes pole position for all-round entertainment this year. Don't be fooled into thinking this is a poor man's 300. Orgies, murder, heaving, muscled gladiators (with slightly confusing Kiwi accents), treachery and deceit, politics and passion, it's got it all. The acting is for the most part tight, with dialog delivered in an pseudo-classical style. Fight scenes are fantastic, at least one jaw dropping, blood spurting death (in slo-mo) per episode. Watch on a projector for full immersion. Fun!
Misfits (Season 2)
Format: 7 episodes of 45 minutes including a Christmas special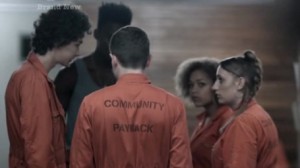 Channel 4's loveable ASBO offenders with special powers get a second season. The antidote to Smallville-style, all-American fantasy is here, with a witty script, utterly British characters and an amoral, you-lookin-at-me attitude.
This season the five continue to muddle through increasingly bizarre scenarios, made more unpredictable by the diversity of special powers "the storm" has unleashed upon random strangers. Although primarily about the monster-of-the-week, this season introduced a mysterious "Super Hoodie" who appears to anonymously save the team at key moments.
Channel 4 has supported the show with additional online content, including behind the scenes, webisodes, and during the live airing of show, the characters tweet relevant asides.
I'm humbled by the sheer talent evident, from the writing to the acting, to the production and marketing. Unusual homegrown brilliance.
Doctor Who (series 5)
Format: 13 episodes of 45 minutes
The newest Doctor, Matt Smith, who Charlie Brooker described as 'a friendly Easter Island statue in a bow tie',  is utterly compelling. He's funny, smart, silly and somehow attractive despite his physical attributes. There is lively chemistry too with his new assistant, the sexy but smart Amy Pond. A brilliant season, thanks I imagine, to head writer Stephen Moffat. I laughed, I cried, I wanted the Doctor to fly me away in the Tardis.
Walking Dead (Season 1)
Format: 6 part mini-series of 1 hour each.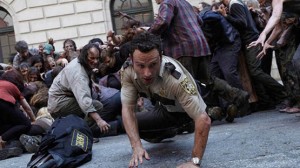 I do love a zombie tale. In this American adaptation from a comic book, a plucky small town deputy wakes to find himself one of the few survivors of a zombie apocalypse.
Once over the shock of our American lead being a very British 'Egg' (Andrew Lincoln) from This Life I loved this cinematic 6-parter. It satisfied the genre brilliantly. How could it not, perhaps, when written by Frank Darabont writer/director of The Shawshank Redemption, and similar apocalyptic human drama The Mist?
Walking Dead has all the right ingredients.  If you like zombie films, you know what you want, and Walking Dead gave loads of it; the zombie horde – dumb but overwhelming, shotguns and exploding heads, someone-you-like-getting-bitten-and-turning, the Lord of the Flies social collapse when the rules just don't apply anymore, and of course, lots of nasty looking, putrefying dead people staggering, limping or otherwise dragging their way towards living flesh.
Fringe (Season 3)
Format:23 episodes of 45 minutes.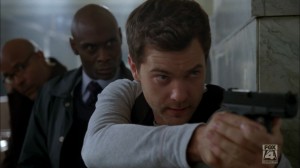 We all know it's The X Files but with less aliens and more zeitgeisty (check the title sequence for keywords) science fiction plots and concepts. This season, parallel universes touch, creating a rather complicated broadening of scope. Still, my interest is held, not in the least by character Dr. Walter Bishop, LSD dabbler and irreverent, mad scientist who provides the well needed comedy.
The rest of them….
30 Rock may be the funniest show on TV right now, and season 5 was no exception. Although eclipsed somewhat by Misfits' genius, the BBC's genre series Being Human (S2) was decent. Season 3 begins on iplayer/BBC Three in January.  True Blood (S3) hit new levels of absurdity/spectacle/gore/sex/nudity this year, and seems to setting itself up for a bigger, badder cliffhanger each episode – can this really be sustainable? Modern Family (S2) is a fairly worthy entry, although for me, it's all about the excellent portrayal of the wants-to-be-cool Dad character, Phil Dunphy. Friends wannabe How I met your Mother (S6) has somewhat hit its stride from humble beginnings, or was that last season? Big Bang Theory (S4) hangs on to its generous title of 'watchable', and newcomer Community (S2) teeters on the verge of being great, then pulls the rug from under us just when we were getting comfortable. Christmas stop-motion episode? Bafflingly unfunny.